The Facts
The more toxic we are, the faster we age. The faster we age, the faster our bodies break down. Poor diet and high stress make us accumulate and store excessive quantities of waste products such as lactic, uric, carbonic, acetic, butyric and hepatic acids in our bodies.
These can lead to health concerns such as:
• Hormonal issues/PMS/menopause/andropause
• Herpes
• Skin fungus
• Sinusitis/allergies
• Jet lag
• Candida/Yeast infections
• Joint pain
• Tendonitis
• Chronic fatigue
• Fibromyalgia
• Colds/flu/pneumonia
• Lymphatic system drain
• Gout
• Headaches
• Mercury detox
• Hepatitis
Why?
Most American bodies are not in a natural state of pH balance; they are acid, or too positively charged. This means that Americans are more susceptible to disease and illness. A body that is in its natural alkaline-acid pH balance is better able to resist the bombardment of bacterial and viral infections and work to peak performance.

The Ionic Detox Foot Bath is the least invasive and most natural detox treatment available.

How does the Foot Bath work?
The Ionic Detox Foot Bath changes the molecular structure of water to give it a negative charge. When you take a barefoot walk on the beach, your body absorbs millions of negatively charged ions which alkalize the blood and tissues. So, unless you are able to take a daily barefoot walk on the beach, or taking other steps to consciously maintain proper pH, you may be unable to maintain an alkaline environment throughout your body.
The Ionic Detox Foot Bath can:

• Improve the immune system
• Assist in recovery time from injuries and surgeries
• Relieve pain and joint stiffness due to arthritis
• Improve sleep
• Remove heavy metals
• Remove blood clot materials
• Improve liver and kidney function
• Improve over all sense of well being
What makes this foot bath unique?
Our Ionic Detox Foot Bath is a sleek, digital, state of the art unit which utilizes disposable arrays. This insures a completely sanitary and toxin-free experience, as other units are desgined to re-use their array and clean them in a solution of phosphoric acid or bleach---known toxins. We also use disposable gel liners in our foot basin rather than plastic bags. You can feel secure knowing that anything that touches you is completely clean and sanitary and is disposed of immediately after use.
What happens during the session?
Each session is 30 minutes long. It is important to drink plenty of good, pure water prior to and after your session.The water in the foot bath will change color during the session. This will vary according to the type of water used, any lotions on the skin and the state of your health. It is estimated that 60-80% of the particles, fat and mucous residue found in the water after the session is indicative of wastes that have left your body.
We chart your results and progress.
Although everyone is different, many people feel lighter immediately after the first session.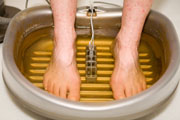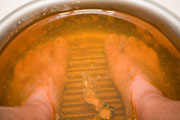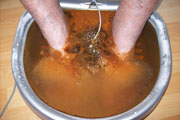 As you can see...results vary depending on the amount of toxins in your body.

Some reported results are:
• More energy
• Strengthened immune function
• Reduction in allergies and flu symptoms
• Improved state of mind and thought process
• Increased metabolism to reactivate the body's fat burning mechanisms
• Reduction in cravings for 'bad' food
• Better sleep
• Weight loss
• Release of fat cells holding toxins
• Reduction of cellulite
• Look and feel great; hair, skin and nails
• Pain relief
• Improved skin tone/reduction of dark under eye circles
• Increased sense of well being

Complete the Health Intake and call our office at 949.544.1166 for further assistance in advance of our first meeting.

• Health Intake Assessment $250
• Initial Consultation and Health Blueprint $250
• Individual Ionic Detox Foot Bath and evaluation $50
• Ionic Detox Foot Bath 10 session package $450

You may phone or email between appointments (within reason) at no charge.